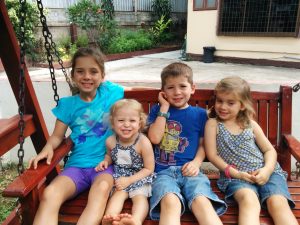 Last Thursday afternoon we left our home in Oyadao and headed for Ban Lung to begin our trip to Thailand. Our plan was to have a good part of Thursday to close up our house and then drive to our team leaders' house (45 mins away) to spend the night.
Friday morning (6:10), we left Ban Lung, stopped for breakfast at friends, and arrived in Siem Real around 2.
Saturday morning we left Siem Reap at 5:40am and arrived at the Thai boarder a little after 8am. Thankfully a friend wanted to borrow our car, so he dropped us off at the boarder. The kids were troopers and there wasn't much boarder traffic at the exit and entry buildings. We made it to the Thailand side of the boarder in about 1.5 hours. We had pre-arranged a taxi van and we're soon on our way to Bangkok. We arrived at our guesthouse in Bangkok around 2.
We're very thankful for the smooth trip God provided us. Thankful we made it. And now to start thinking about having a baby…I mean, I've been kinda busy lately.